The Point System for Traffic Violations in New York
Jan. 12, 2023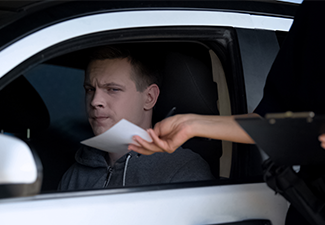 Getting a traffic ticket is never a pleasant event. Even if it is for a minor violation, you have to endure the nuisance of pleading "guilty" and paying the fine without contesting the citation, or the hassle of pleading "not guilty" and undertaking the dramatics of a courtroom challenge.
What's worse — should the violation go on your traffic record — your insurance premium is likely to go up in tandem. A 2021 study by Bankrate showed that the average rise in car insurance rates following a traffic violation in New York is 14 percent.
Speaking of traffic violations, each ticket you get is going to earn you points on your driving record. As the points accumulate, your insurance premium is not only likely to rise in lockstep, but if you get enough points, you put yourself at risk of license suspension.
I am an experienced traffic law and criminal defense attorney in Buffalo, New York. I serve clients throughout Western New York and Canada. If you have committed one or multiple traffic offenses and you want to know what you can do about the points you've accumulated, contact Michael Kuzma. Better yet, once you receive a citation, reach out to me immediately. Let's investigate and work on a possible defense to avoid points and a potential premium increase.
How the Point System Works in New York
All states assign points for traffic violations, and all insurance companies use these points to raise premiums. Fortunately, in New York State, the point system is spelled out in advance, so you can know once you are ticketed how many points await you if you decide to pay the corresponding fine right away or unsuccessfully challenge the citation.
The state's demerit system, The Driver Violation Point System, exists to give the state's Department of Motor Vehicles (DMV) referenceable data to be used for identifying and taking action against high-risk drivers.
The system sets a threshold of 11 points in 18 months as the tipping point toward a driver's license suspension. Furthermore, if you receive six or more points in an 18-month period, you will be required to pay a Driver Responsibility Assessment Fee.
How Your Point Total Is Calculated
The DMV sets three standards for calculating your total points:
You must be convicted or plead guilty before the points are added to your record.
Your points accumulate from the date of the violation, not the date of conviction. So, the 18-month clock begins on the date of your first citation.
All points accumulated from your first violation in 18 months are counted toward the total.
An Overview of the Point System
As mentioned earlier, New York is transparent in the number of points you will receive for each sustained or convicted violation. The scale for speeding is as follows:
1 to 10 mph over the limit = 3 points

11 to 20 mph = 4 points

21 to 30 mph = 6 points

31 to 40 mph = 8 points

Over 40 mph = 11 points
As you can see, a couple of speeding tickets, or sometimes even one, can land you on the brink of having your license suspended.
Other violations and their point consequences include:
Reckless driving = 5 points

Failure to stop for a school bus = 5 points

Improper cell phone usage = 5 points

Testing on a portable electronic device = 5 points

Railroad crossing violation = 5 points

Failure to yield right of way = 3 points

Running a red light = 3 points

Disobeying a traffic signal yellow or red light = 3 points

Driving left of center in wrong direction = 3 points

Leaving the scene of property damage incident = 3 points

Child safety restraint violation = 3 points

Most other moving violations, including failure to signal and turning improperly = 2 points
Out-of-State Violations
New York has reciprocal agreements with most states. This means that, even if you are cited in another state, the violation and accompanying points will accrue to your driving record. New York State also has reciprocal agreements with the Canadian provinces of Ontario and Quebec.
Reducing Your Points
The DMV has approved and supports the availability of what is called a Point and Insurance Reduction Program (PIRP) that can help keep you from a potential suspension of your driver's license. If you accrue 11 or more points, participating in PIRP can reduce your point total by four, but only for purposes of a suspension.
All points actually remain on your driving record, but successful completion of the program can lead to a 10 percent reduction in your insurance premium for three successive years.
Depending on the details of your violation, participation in the program does not guarantee that you will keep your license, however, nor does it eliminate your responsibility for the Driver Responsibility Assessment Fee. Participation also does not affect any future points earned; they will still go on your record.
Rely on Experienced Representation
Nothing in the law says you have to immediately send in a payment for your citation. You have the right to challenge your traffic citation. Several defenses are available, including disputing the facts of the incident, challenging the officer's account of events, establishing that your actions were legally justified, and providing evidence and witness testimony challenging the very nature of the charge.
Before your citations accumulate to the point of insurance premium hikes and possible DMV assessment fines and even suspension of driving privileges, reach out for legal counsel and guidance. If you're anywhere in the United States or Canada, and have been ticketed in Western New York, contact Michael Kuzma immediately.
Mike has over 20 years of experience helping clients preserve their driving privileges while keeping their driving records as clean as possible. Let's work together to keep your record as clean as possible, and your premiums as low as possible.